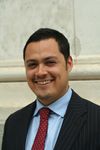 We're excited to announce we've added another stellar name to our Broadband Ambassadors. Kristian Ramos is a Public Relations Strategist with experience working with both the House and Senate. His most recent gig was with the Congressional Hispanic Caucus.
Earlier this week, Ramos penned a piece for the Huffington Post on the need to update the 1996 Telecommunications Act. Here's an excerpt:
Our new younger and ethnically diverse populations are already interacting with broadband in a huge way. For example according to Nielson, Hispanic consumers adopt smartphones at a higher rate than any other demographic group and watch more hours of videos online and on their mobile phones than the average American. But we need them and other segments of our new America to engage more in the opportunities that broadband technologies provide.

In order to ensure that these new broadband apps and services continue to benefit consumers, Hispanics or otherwise, one aspect must be addressed – what is the proper regulatory framework that should be in place to provide the best incentives for creators to innovate and for carriers to build out nationwide all broadband networks? How do we reach more of our diverse nation?
Check out Ramos' full op-ed at the Huffington Post.